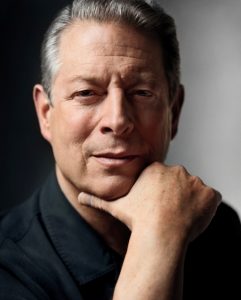 We are delighted to announce that the Hon Al Gore (former US Vice President and current Chair of The Climate Reality Project) will be the Principal Speaker at the ECOCITY World Summit 2017. Mr. Gore will deliver his famous slide presentation including his insights on the role of cities in meeting the global climate challenge.
The ECOCITY World Summit 2017 will bring together researchers and practitioners from government, business, communities and universities from across the globe to address three key questions:
What are the sustainability risks and opportunities facing our cities?
How can we imagine a better urban future?
And what do we have to do to get there?
The Summit will have a strong focus on practical solutions and policy priorities, as well as big ideas. It commences on Wednesday 12 July 2017 followed by a welcome reception at the close of sessions. On Thursday 13 July sessions will continue with a Melbourne Conversations Public Forum that evening. The Summit will conclude on Friday 14 July 2017.
Program highlights are featured below: 
PLENARY SESSIONS 
Plenary  presentations by many of the world's most inspiring urban thinkers will be a highlight of the Summit.
Former US Vice-President Al Gore will appear in person to explore how cities can drive climate change action. UN sustainability leader Aromar Revi, will be joined by renowned urban scholars Harriet Bulkeley, Andy Merrifield and Katherine Gibson to discuss what makes a resilient city. Discussion on climate action priorities for local communities and governments will be led by French Senator Ronan Dantec (climate spokesman for United Cities and Local Governments) and City of Durban Chief Resilience Officer, Deb Roberts.
See more of session list
Cities leading the way in accelerating global climate action
Al Gore: Former US Vice President and Chair of The Climate Reality Project will present an updated version of his famous slide show on global climate challenges and solutions with a special emphasis on the role of cities in achieving the goals of the Paris Climate Agreement.
Sustainable and resilient cities: Key challenges, risks and opportunities
Aromar Revi: Director, Indian Institute for Human Settlements; Lead author on Urban Areas for IPCC 5th Assessment Report; Chair of Urban Theme Group, UN Sustainable Development Solutions Network
Harriet Bulkeley: Leading international urban climate governance scholar; Author of Governing Climate Change and Cities and Low Carbon Transitions; Professor of Geography, University of Durham, UK
Climate Chance: The role of cities and civil society in meeting global climate and sustainability challenges
Ronan Dantec: French Senator for Loire Atlantique; Climate and environment spokesman for United Cities and Local Governments; Chair of Climate Chance Summit, Nantes 2016 and World Summit on Climate and Territories, Lyon, 2015. Senator Dantec will chair a high level panel of speakers from the global Climate Chance movement.
Imagining sustainable and resilient urban futures
Andy Merrifield: Prolific and provocative writer on global urbanization; Author of The New Urban Question        
Katherine Gibson: Renowned writer and researcher on alternative economic paradigms for cities and regions; Co- author of Take back the economy: an ethical guide for transforming our communities; Institute for Culture and Society, University of Western Sydney
Creating and building sustainable and resilient cities
Deb Roberts: Chief Resilience Officer, City of Durban; Co-Chair IPCC Working Group II; Special advisor on climate change to ICLEI Global Executive
Lars Coenen: Newly appointed chair in Resilient Cities (joint appointment University of Melbourne and City of Melbourne)
Senior government, business and community leaders
---
URBAN LEADERSHIP STREAM
This dedicated  stream aims to inform and inspire current – and future – urban leaders.  The stream will bring together leading researchers, policy makers and practitioners to explore urban sustainability and resilience challenges and opportunities requiring a cross disciplinary cross sectoral approach. There will be sessions on what the Sustainable Development Goals mean for cities; what business can do to drive urban sustainability; and the crucial role of arts and culture.
David Holmgren: Co-founder of the Permaculture movement will launch his new book 'Retrofitting Suburbia'. Speakers from the Pacific Islands, Asia and South America will highlight challenges and opportunities facing cities in the Global South.
See more of session list
Sustainable Development Goals: Key implications for cities
Climate Chance: Subnational governments and cities accelerating global climate action: Debate on city climate action priorities for COP 23 chaired by Senator Ronan Dantec
The role of business in creating sustainable and resilient cities: Including presentations from profile international corporate organisations
Global learning about sustainable cities: Panel chaired by Ecocity Builders
Retrofitting Suburbia: How households and communities can adapt and thrive in an energy descent future: David Holmgren, cofounder of the Permaculture movement; Author of Principles and Pathways Beyond Sustainability and Retrosuburbia
Cities and towns in small island states: Key climate and sustainability challenges and priorities: Panel of leading Island city and community policy makers and practitioners
The role of art and culture in creating sustainable and resilient cities
---
CITY PRACTICES STREAM
The City Practices stream will showcase how city governments and partners are working to create low carbon, climate resilient ecocities in Australia and around the world. The stream will focus on practical workshops, case studies and masterclasses looking at real-world success stories and challenges. How to build – and measure – a zero-carbon city? How can we accelerate progress on urban greening, green buildings and renewable energy? How can cities deal with extreme weather events and changes in rainfall and sea level – and how can they engage citizens in this?
See more of session list
Zero Carbon Cities

Zero Carbon Cities: Setting, achieving and reporting on goals and targets
Urban renewable energy strategies
Urban energy efficiency strategies
Green buildings
Zero carbon transport and mobility
Implementing deep decarbonisation in cities

Climate Resilient Cities

Planning and leading resilient cities
Urban greening and biodiversity strategies at metro scale
Valuing green infrastructure
Dealing with future rainfall and sea level rise in an urban context
Creating an Urban Forest (Master class)

Citizen and community engagement

Women leading local government
Caring for country: Indigenous perspectives
Technologies for community engagement and resilience
Engagement tools for end to end planning
Engaging citizens in disaster and resilience planning
Engaging citizens in urban food security
Collaborative urban governance (Masterclass)

Planning and governance

Leading large scale urban transformations
Ecocities in suburbia and regional cities
Using legal instruments to drive and facilitate urban change
Human centered urban design
Disaster risk reduction for local government
Urban water (Masterclass)
---
ACADEMIC RESEARCH STREAM
The Academic Research stream will connect and engage an outstanding and diverse array of leading international and Australian researchers to consider urban challenges in relation to climate change, food and water, smart cities, transport, health, culture, finance and governance.
---
ARTS & CULTURE PROGRAM
The program also allows participants to down tools, get creative, and explore the city of Melbourne. There will be a wide range of art and cultural events, including the extraordinary environmental installation EXIT which turned heads at the Paris climate talks in 2015. Site visits around Melbourne and the surrounding region, along with Hackathons and networking events will be announced shortly.
---
CALL FOR CONTRIBUTIONS – NOW CLOSED

 ECOCITY 2017 has received an outstanding number of contribution submissions which are currently under review. Authors will be sent notification on 10 March 2017. 
---
EARLY BIRD REGISTRATION SAVINGS
Register now and take advantage of early bird registration savings.  Visit here for further details.