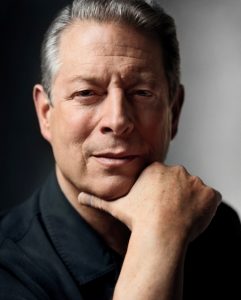 We are delighted to announce that the Hon Al Gore (former US Vice President and current Chair of The Climate Reality Project) will be the Principal Speaker at the ECOCITY World Summit 2017. Mr. Gore will deliver his famous slide presentation including his insights on the role of cities in meeting the global climate challenge.
The ECOCITY World Summit 2017 will bring together researchers and practitioners from government, business, communities and universities from across the globe to address three key questions:
What are the sustainability risks and opportunities facing our cities?
How can we imagine a better urban future?
And what do we have to do to get there?
The Summit will have a strong focus on practical solutions and policy priorities, as well as big ideas. It commences on Wednesday 12 July 2017 followed by a welcome reception at the close of sessions. On Thursday 13 July sessions will continue with a Melbourne Conversations Public Forum that evening. The Summit will conclude on Friday 14 July 2017.

Please be advised this program is subject to change without notice.
PLENARY SESSIONS
The Plenary Sessions provide all delegates with the opportunity to hear from some of the world's most insightful and inspiring speakers on Ecocity challenges including:
Click on the button below to view the program overview including where these speakers are presenting within the program.

---
URBAN LEADERSHIP STREAM
The Urban Leadership stream (Big ideas and global perspectives) includes presentations and panels on topics as important, urgent and diverse as sustainable development goals and cities; the new urban agenda; business creating sustainable cities; retrofitting suburbia; creating regional ecocities; and women leading sustainable and resilient cities.

---
ACADEMIC RESEARCH STREAM
The Academic Research stream (Evidence, analysis and insight) brings together researchers from around the world to share knowledge about risk, resilience and change; green design and planning; cultural ecologies; greening the city; climate transformations; healthy and caring cities; smart cities for people; and urban food and water systems.

---
CITY PRACTICES STREAM
The City Practices stream (Strategies and tools for driving change) includes policy and practice workshops and masterclasses on zero carbon cities; climate resilient cities; citizen engagement; and planning and governance.

---
SPEAKERS AND CHAIRS
The Melbourne Organising Committee is grateful for the involvement of all the speakers and chairs within the Summit program. 
A listing of all the speakers and session chairs can be found here.
---
ARTS & CULTURE PROGRAM
The program also allows participants to down tools, get creative, and explore the City of Melbourne. There will be a wide range of art and cultural events, including the extraordinary environmental installation EXIT which turned heads at the Paris climate talks in 2015. Additional activities are taking place during the Summit, site visits are on offer on Saturday 15 July and pre and post touring options are available before and after the Summit. 
---
IT'S NOT TOO LATE TO REGISTER
Register now!