Andy Merrifield

Prolific writer on global urbanisation, author of "The New Urban Question"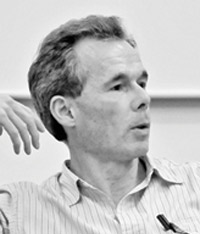 Andy Merrifield is an independent scholar, urbanist and writer. He received a PhD in geography from the University of Oxford in 1993, where he was supervised by David Harvey. Merrifield is the author of many books including The Politics of Encounter (2013), Magical Marxism (2011), Dialectical Urbanism (2002) and Metromarxism (2002).
In addition, he has written several intellectual biographies on key thinkers such as Henri Lefebvre, Guy Debord, and John Berger; a popular meditation on slow travel (The Wisdom of Donkeys, 2008); as well as numerous articles and essays on urbanism, art, literature and politics. Merrifield refers to himself as magical Marxist, and while his scholarship clearly bears the imprint of Marxism, his wide interests and library of references makes him an idiosyncratic voice within the urban studies discipline. His most recent book The New Urban Question (2014) grapples with establishing new coordinates for urban research and politics under the current conditions of planetary urbanisation. He has a forthcoming book, The Amateur (Verso, 2017), which explores the spirit of amateurism in our age of the professional expert.